Schnauzer Health Survey
GENERAL HEALTH POSITION
All three sizes of the Schnauzer family, generally speaking are robust and considered to be healthy but to ensure that we maintain this position, an Annual Health Return plan is produced and forwarded to the Kennel Club.
Please refer to each size specific page for details on the Annual Health Returns
The new upgraded UK Schnauzer Health Survey, for Miniature Schnauzers, Schnauzers and Giant Schnauzers,  has now been launched. If you currently own or, sadly had a schnauzer that has passed away in the past 10 years, please take a few minutes and take part in this Survey.
We need to hear from as many owners and breeders as possible, whether your Schnauzer is currently healthy, has any ongoing health issues, or passed away within the last 10 years.
If you own several Schnauzers, please complete a separate survey for each dog you own even if you took part in any previous surveys.
This new new health survey includes all ongoing conditions from dental problems, birth defects to all diagnosed health conditions, and equally as important, we need to hear about your Schnauzers that are perfectly healthy whether they were born or imported into the UK.
Many thanks for your support.
www.schnauzerhealthsurvey.org.uk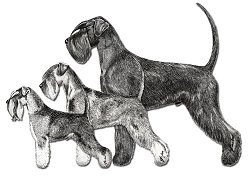 or alternatively completing the form that can be downloaded here:

In order to get a full picture, it is important that we capture data about healthy dogs, those who have encountered health problems as well as those that have died and all information will be treated in the strictest confidence.
In addition if you wish to talk through problems, Chris Ellingworth, our health representative, is available for advice on: doncleve@me.com
Schemes or advice relevant to the Schnauzer family
Please click on the following breed specific links for further information: